Even my mail looked different in April.
As I wrap my fourth month of living like Prince, I marvel at how things that would have made zero sense to me as little as a year ago now seem like logical no-brainers. Erase my name and replace it with a symbol for the month of April: Why not!
The symbol experiment started when I took up painting during my month of color in March. The logical next step (and I use the term "logical" loosely) was to deploy my newfound painting "skills" (again, speaking VERY loosely) in the interest of April's theme. That's because it had come to my attention that there's no possible way to live like Prince for a year without reproducing Prince's ballsiest move in a career full of ballsy moves: Changing his name to the Love Symbol.
THE HOW-TO
The immediate problem I faced as April opened was how to create the symbol itself. Fortunately, when I called my talented friend Michelle Palko Smith (who designed the cover for The Rise of Prince: 1958-1988) in a complete panic (she's getting used to these calls by now), she cool-headedly pointed me to a method that you could dub, "Creating a Symbol to Represent Everything You Stand for … for Dummies." After patiently listening to my ill-conceived scheme for finding a designer on a services marketplace like Fiverr who would magically come to understand me, my dreams and fears and aspirations through osmosis and email, and within a time period of 24 hours produce a symbol for me for $25 maximum, Michelle gently suggested an alternative: Search up some free clip art and trace it.
Tracing! Now here was an art form that was within reach.
Michelle is clearly a genius.
I knew I needed to incorporate a heart because I had come to love the heart mirror bracelet that my friend Michelle Kasimor Streitz had gifted me and that I wore throughout February. And then, perhaps spurred by a Vitamin D deficiency caused by a long Minnesota winter, I decided sunshine was also in order. I went to openclipart.org and searched up "sun heart" and voila! Several images appeared. I chose one, printed it and got to work.
Herewith, a glimpse inside my artistic "process":
This was the point where I texted a photo to Michelle Smith and said, "Should I add the banner?" "No banner" came the reply. Michelle did branding for the likes of Quaker Oats, so who am I to question her judgment? No banner it is (and she was clearly correct).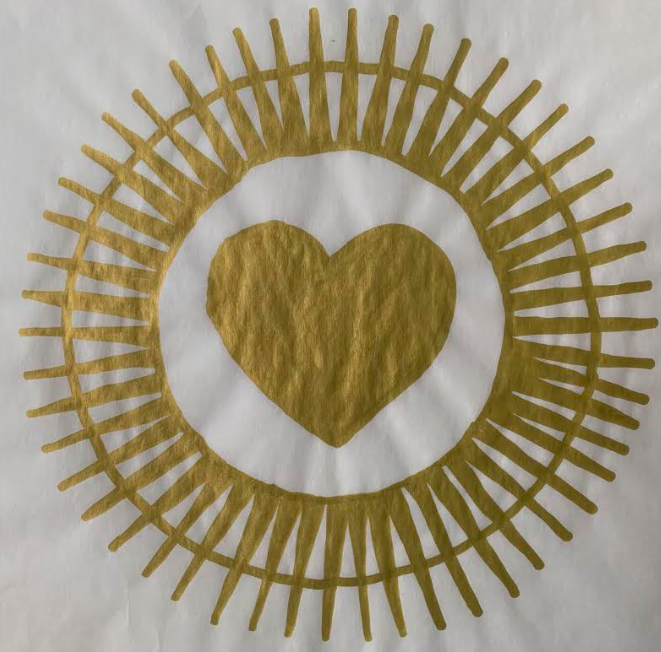 While I was tracing, crumpling up tracing paper in frustration, using up Sharpies and running to Office Depot to buy more supplies, I had plenty of time to contemplate the meaning of my new symbol. During the month, I kept the meaning of my symbol secret, in true Princely fashion, but now I can reveal its hidden meaning (if everyone can act as if they've been waiting for this all month, it would be GREATLY appreciated). My symbol is of course love and sunshine, and it has a deeper meaning too, which is wholeheartedness, a word I've come to connect with Dr. Brene Brown's work about vulnerability. My symbol is a reminder to me to be vulnerable and put my heart on the line, even if it's inevitably going to be hurt at some point. My symbol reminds me that it's a good thing to share myself with others even when it scares me. The fact that my wobbly, imperfect hand drew this and the result is a wobbly and imperfect symbol felt right.
On to the pros and cons of adopting a symbol as one's name:
THE GOOD
Adopting a symbol as my name felt mischievous and trickster-like.
I felt as if I was gaming the system, and winning.
It was amusing to see other people do a doubletake when I wrote my symbol on a nametag or asked them to write it on a Starbucks cup.
THE BAD
Some people responded by looking puzzled and practically squirming. I felt uncomfortable making others uncomfortable.
I hate asking for special treatment!
Doing something so far out of the range of "normal" drives a wedge between you and everyone else. It sets you apart in a good way, yes — but it also makes it clear that you have no interest being part of the group.
I worried that I'd get made fun of and that people would think I was weird. Guess that ship has sailed …
NEXT UP: I take the next logical step in my Princely evolution. Tune in tomorrow for the announcement!